Home Our Staff Product Listing Lessons Our Teachers
Guitar Repairs Electronic Repairs Band Duplication Specials Firey Friends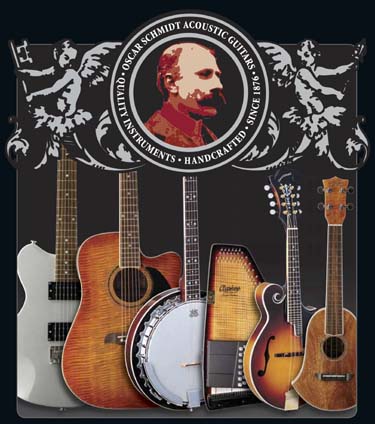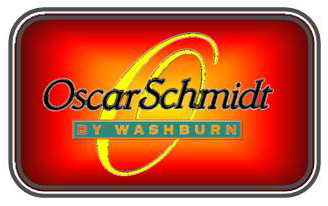 The Oscar Schmidt Company was founded in 1871. By the early 1900s, the company had five factories in Europe and a factory on Ferry Street in Jersey City, NJ. They made all kinds of stringed instruments including guitars, banjos, mandolins, ukuleles, zithers and Autoharps.
In the early 1920s Oscar Schmidt instruments were sold in many rural parts of the country where music stores did not exist. Blues musicians and country guitar pickers living in areas of the south and Appalachia performed with Oscar Schmidt instruments because of their superior tone and volume characteristics. In the years before amplification, the projection of sound was very important and Charley Patton is said to have preferred his Oscar Schmidt Stella to a Gibson guitar because the Oscar Schmidt was louder. It was during the 1930s that Leadbelly's famous Stella 12-string guitar was produced. Oscar Schmidt continues to produce quality musical instruments, known for great sound and easy playing at affordably prices. Try one and you will be convinced.
Click on Thumbnail Photos for Closer View. If after loading, Thumbnails do not show picture, please REFRESH


All Instruments Are Properly Set-Up, Checked Over and Tuned Upon Our Receipt of Shipment
OG1N OG1TR OG1TBL
OG1FYS OG1LH OF2P
OG2N LH OG2 FYS OF2SM OG2SM
OG10CE Flame Trans Blue OG10CE Flame Yellow Sunburst
OH30SCE Requinto OH52SE Bajo Sexto Electric
OH22SE Bajo Quinto Thinline OH32SEQN Bajo Quinto

OM10EWH Mandolin OB3 Open Back Banjo
KU1CY Kai Concert Ukulele KU1CB Kai Concert Ukulele OU2 Concert Ukulele
OU2F Flame Mahog Concert OU52 Baritone Ukulele OU2E Concert Ukulele OU28T Tenor 8-String
OU3 Concert Ukulele OU52E Baritone OU53 Baritone Ukulele OU18 Soprano Ukulele
OU7 Long Neck Concert Ukulele OU8 Concert OU8T Tenor Ukulele OUB1 Banjolele Banjo Ukulele
OU58 Spalted Baritone Ukulele OU8TLCE Spalted Tenor Ukulele OUB 200K Bass Ukulele OU55CE Koa Baritone Ukulele
OU2 Concert Ukulele Package
OS45CE Autoharp with Pickup AC445 Autoharp Gig Bag

Please sign up today for upcoming newsletters and exciting product specials !

This Page Last Updated On 02/29/2016