Home Our Staff Product Listing Lessons Our Teachers
Guitar Repairs Electronic Repairs Band Duplication Specials Firey Friends

Fender Guitars, Fender Squier Guitars, Stratocaster, Telecaster, Fender Precision Bass,
Fender Jazz Bass, Mandolins, Banjos, Ukuleles, Guitar Packs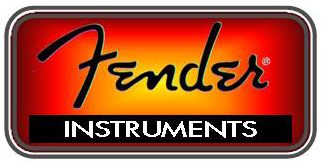 (Since our stock can change daily, please call to check colors currently in stock of Guitar Models shown. Thank you.)
Click on Thumbnail Photos for Closer View. If after loading, Thumbnails do not show picture, please REFRESH

(As new models are being added to this page, we are using a new improved template for those models. Just explaining the non-uniform look to some of the thumbnail images as we eventually replace the old templates. Thanks.)
(We are in the process of updating this page. Thanks for your patience.)
1.5-8 / 300-TN / 400-TN (packs)
FENDER SQUIER STRATOCASTER GUITARS
FENDER SQUIER TELECASTER GUITARS
FENDER SQUIER - OTHER MODELS
FENDER SQUIER BASS GUITARS

Icon. Not a word to be used lightly. But the Fender Stratocaster is just that. Starting with the affordable Standard Series Fender Stratocaster to the top of the line American Standard Stratocaster, Fender has created a Stratocaster for every budget and discerning musician. Take a look at our selection of Stratocasters: Standard Series, Standard Series HSS, Deluxe Roadhouse, Highway One, American Special Series, Artist Series Stratocaster and of course, the American Standard.
FENDER STRATOCASTER GUITARS
A History of Fender Guitars - Wikopedia (PDF)

The look, sound and vibe of the Fender Telecaster guitar resonates throughout the history and soundscapes of popular music. From orchestra pits to mosh pits; small clubs to stadiums and garages to recording studios, its signature sound is everywhere. Beginning with the Standard Telecaster guitar to the top of the line American Standard Telecaster, Fender has created a Telecaster just for you. Take a look at the models we have in stock including the Standard Series, Deluxe Nashville, Highway One, Classic Thinline Telecaster, Spalted Maple Telecaster to the American Standard Telecaster.
FENDER TELECASTER GUITARS
FENDER - OTHER MODELS
Fender Modern Player Marauder, Fender Blacktop Jaguar HH, Fender Blacktop Jazzmaster HS Electric Guitar

The sounds that create legends. Since its birth in the early '50s, the Fender Precision Bass guitar has remained the ubiquitous standard for thick tone and smooth playability. Also, since its introduction in 1960, the Fender Jazz Bass has been relied on by professional bass players of all musical genres for its rich tone and musical versatility. From the Standard Series to the top of the line American Standard Series, Fender has created a sound tailored just for you.
FENDER BASS GUITARS
FENDER'S PLUSH SKB MOLDED CASE (Included with Upper End Fender Models)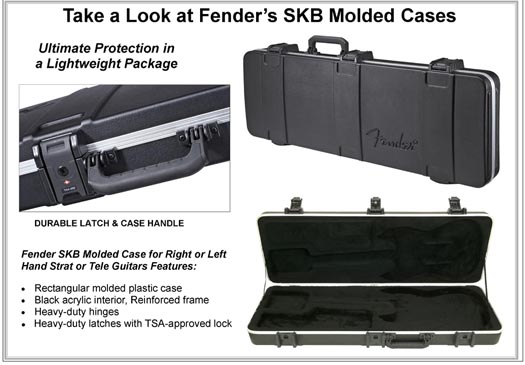 SKB Cases are included with all upper end Fender Stratocaster and Telecaster Models
This Web Page Launched 03-15-10
This Page Last Updated On 06/29/2018