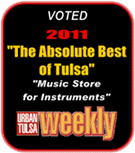 516 S. Sheridan Road - Tulsa
----------------------
(Not associated with Firey Music in Sand Springs)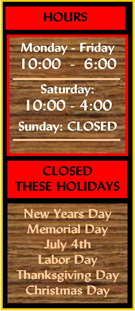 90 DAY FREE LAYAWAY
Check Out These Featured Brands













ABOVE are Products by the Main Lines We Carry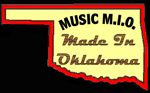 ----------
BELOW are Products and Other Brands not represented above








(Links Below are to Web Page
About Us & HOW IT ALL BEGAN By Ray Firey
Home Our Staff Product Listing Lessons Our Teachers
Guitar Repairs Electronic Repairs Band Duplication Specials Firey Friends

Click on Thumbnail Photos for Closer View. If after loading, Thumbnails do not show picture, please REFRESH

Common Ukulele Sizes and Tunings PDF
We've been told by many of our customers that Firey Brothers Music has by far the best selection of ukuleles in the Tulsa area. Ever growing in popularity, there is not a more fun and satisfying instrument to play. We stock many ukulele brands and price ranges, and all types of shapes, wood types. sizes and even sounds.
Most of these brands have their own web pages below. Check out the wide assortment of ukuleles we have to offer.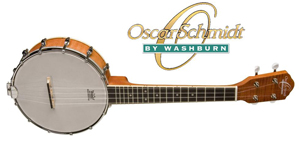 Kala Ukuleles Oscar Schmidt Ukuleles Fender Ukuleles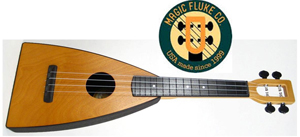 Magic Fluke Ukuleles Martin Ukuleles Luna Ukuleles
Here is what George Harrison of the Beatles had to say about playing the ukulele.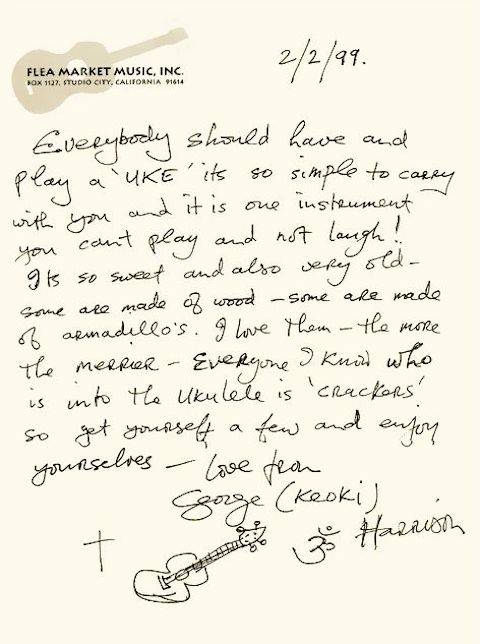 George Harrison of the Beatles loved the ukulele, and really, what's not to love? For its dainty size, the uke can make a powerfully cheerful sound, and it's an instrument both beginners and expert players can learn and easily carry around. As Harrison's old friend Joe Brown remarked "You can pick up a ukulele and anybody can learn to play a couple of tunes in a day or even a few hours. And if you want to get good at it, there's no end to what you can do." Brown, once a star in his own right, met Harrison and the Beatles in 1962 and remembers being impressed with the fellow uke-lover Harrison's range of musical tastes: "He loved music, not just rock and roll…. He'd go crackers, he'd phone me up and say 'I've got this great record!' and it would be Hoagy Charmichael and all this Hawaiian stuff he used to like. George was not a musical snob."
"Crackers" may be the perfect word for Harrison's uke-philia; he uses it himself in the adorable note above from 1999. "Everyone I know who is into the ukulele is 'crackers,'" writes George, "you can't play it and not laugh!" Harrison remained upbeat, even during his first cancer scare in 1997, the knife attack at his home in 1999, and the cancer relapse that eventually took his life in 2001. The ukulele seemed a sweetly genuine expression of his hopeful attitude. And after Harrison's death, it seemed to his friends the perfect way to memorialize him. Joe Brown closed the Harrison tribute concert at Royal Albert Hall with a uke version of "I'll See You In My Dreams," and Paul McCartney remembered his friend in 2009 by strumming "Something" on a ukulele at New York's Citi Field.
In his remarks, McCartney fondly reminisced: "Whenever you went round George's house, after dinner the ukuleles would come out and you'd inevitably find yourself singing all these old numbers." Just below, see Harrison, McCartney, and Ringo Starr sing a casually harmonious rendition of the 1927 tune "Ain't She Sweet" while lounging picnic-style in a park.
In Hawaii, where Harrison owned a 150-acre retreat, and where he was known as Keoki, it's said he bought ukuleles in batches and gave them away. The story may be legend, but it certainly sounds in character. He was a generous soul to the end. Just below, see Harrison strumming and whistling away in a home video made shortly before his death. You can hear the hoarseness in his voice from his throat cancer, but you won't hear much sadness there, I think.
(The Above Content borrowed from openculture.com on the benefits of playing the ukulele.)
Please sign up today for upcoming newsletters and exciting product specials !

This Page Last Updated On 04/24/2015